Слава
Україні
Slava Ukraini! Glory to Ukraine!
At a glance
We have three churches, St James, Malanda (map), Our Lady of Consolation & St Patrick, Yungaburra (map), and St Rita of Cascia, Millaa Millaa (map).
Parish Office: 5 Monash Ave, Malanda; ph (07) 4096 5156.
Some office functions are undertaken in Atherton's Parish Office: ph (07) 4091 1125.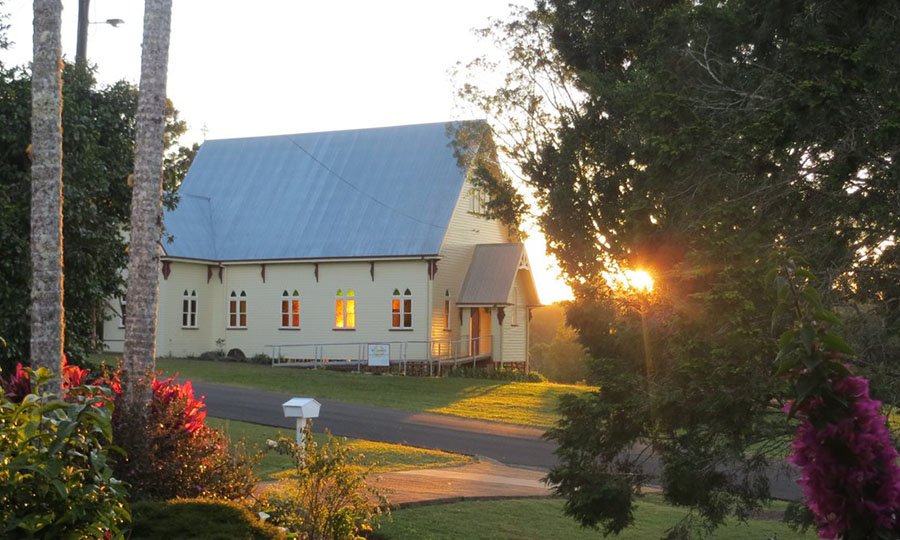 Photo by Gunnar Risla, neighbour across the road, nearing sunset in 2014.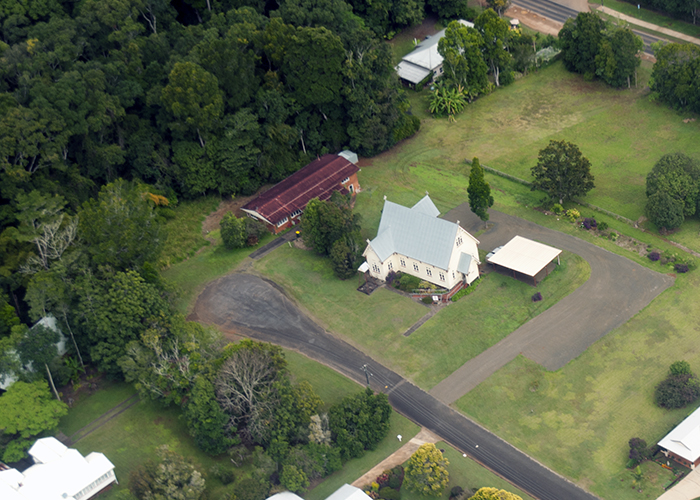 Arial photo taken in August 2020.
The church (1927)
The decision to build a church was made in mid-1925 and on land donated by James English (1865-1951), now 5-11 Monash Avenue (see in a map). It was designed by architect Robert Ransom Hassall (1882-1957) and was built by Albert Alfred Halfpapp (1890-1971), both then of Malanda. Building commenced July 1926, and reports indicate that at least the shell was completed by November 1926. It was blessed and opened by Bishop John Heavey on 23 January 1927, but some furnishings were still to come.
The altar and retable (1928)
The neo-Gothic timber altar with retable (the arched panels attached to the back, but often called a reredos) was made by Stephen Purcell (1899-1976) in Mareeba; it was reported as having just been completed and sent to Malanda in November 1928, and was photographed at this time fully assembled and painted white, on a pallet outside Steve's workshop (see photos below). The retable and baldachin (the tower above the central box, now tabernacle) would have been detached before transport, and this is the only way it could be brought into the church where it was then reassembled. We do not know when it actually arrived in Malanda, nor when, where and by whom it was painted in imitation of marble and stone according to the usual style of the time. The first photo below was taken when Fr Kevin English MSC (1914-1998), first priest from the parish, celebrated Mass here on 10 August 1941; it shows the altar's original painted form imitating marble, and it was like this until the 1960s. It may have been repainted into its current white with gold trim form in 1969, and was touched up somewhat around 1993 but the job was left finished. The construction of the reredos includes space into which art on custom-made frames can be inserted.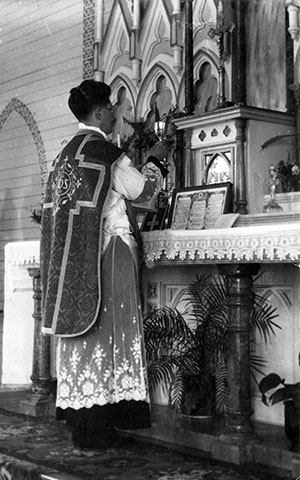 10 August 1941, Fr Kevin English celebrating Mass.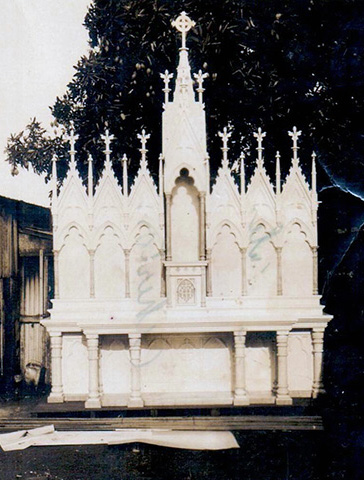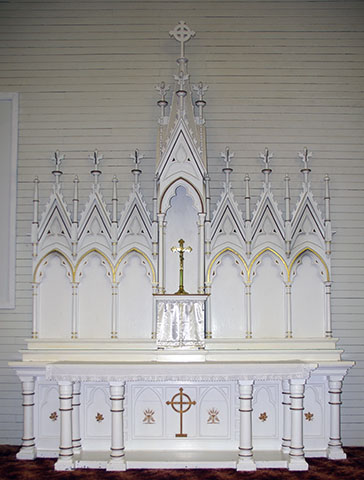 Left: in 1928 in Mareeba painted with white base coat. Right: in 2016.
The original painted marbling and stone decoration of the altar was painted out, probably in the late 1960s, and to become the current white with gold trim. It was retouched in the 1990s but was left unfinished. Before the church's centenary (2027) we plan to have it properly repainted. The altar, as was common with those made in the same period, was built with the capacity to hold art within the six arches of the retable. Custom designed and made frames allow art to be inserted without the need for any fixtures, and thus without making any change to the piece nor inflicting any damage to it. This also allows us to have a more dynamic approach to the inclusion of art than would usually be possible; we hope for one set to create a form of Iconostasis, and during certain liturgical season, such as Lent, to use colours or art proper to that time.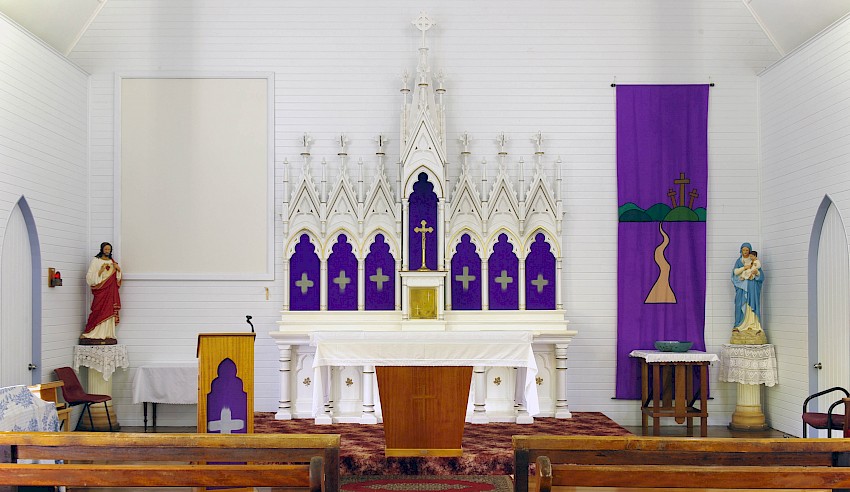 Lent 2020, the temporary purple inserts showing where custom art pieces may go. Click for a larger version.
Covid-19 changes
Covid-19 spacing requirements were impossible to achieve with the pews, so they were all removed mid-2020 in favour of individual chairs. This provided the opportunity to have the pews restored, and to re-polish the church floor. Some restored pews have been brought back for use in combination with chairs to provide adequately spaced seating.