At a glance
We have two churches, St James in Malanda, and St Rita of Cascia in Millaa Millaa. The Parish Office is located at 5 Monash Avenue, Malanda: ph: (07) 4096 5156.
Some office functions are undertaken in the Parish of Atherton's Parish Office, 28 Mabel Street; ph (07) 4091 1125.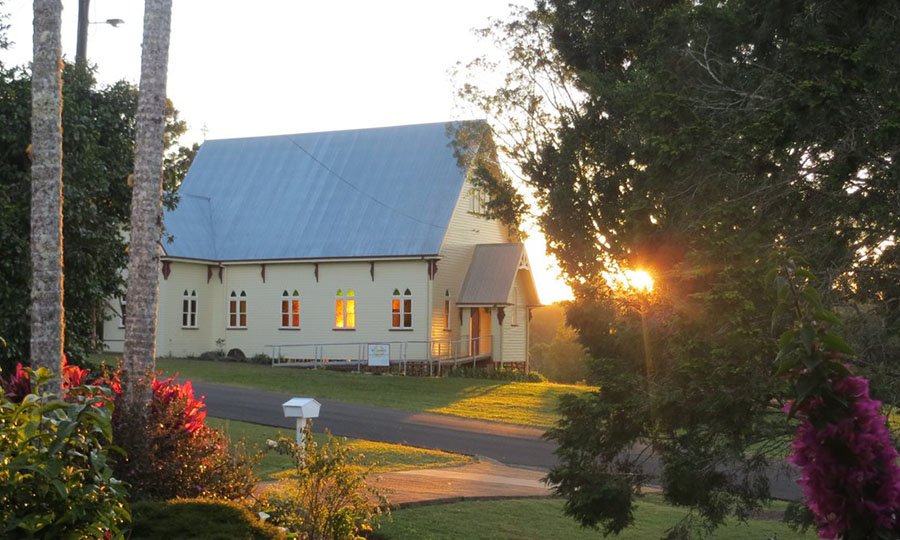 Photo by Gunnar Risla, neighbour across the road, in 2014.
The church (1926-1927)
Located at 7 Monash Avenue (see in a map), the decision to build a church was made in mid-1925 on land donated by James English (1865-1951), but building was reported as commencing only from late July 1926 and was reported in November as having been built, but that does not mean it was finished. It was designed by architect Mr R. Hassall and was built by Mr A. A. Halfpapp, both of Malanda, and it was opened by Bishop Heavey on 23 January 1927, but not all furnishings were ready.
The altar (1928)
The altar was hand-made from Tableland timber by Mr Steve Purcell in Mareeba; it was reported as having just been completed and sent to Malanda in November 1928. The first photo below is of Fr Kevin English MSC celebrating Mass in 1941, and it shows that it was poly-chrome, painted in imitation of marble and other stone. Sometime later it was repainted white with gold and brown trim (photographed here in 2016).